News
We're Moving!
15th January 2014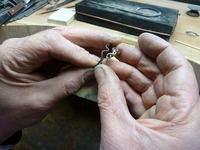 On 31st January we shall be closing our workshop in Sudbury,Suffolk. We are moving to a delightful Grade 2 Listed property in Woodbridge. From 1st March you can visit us at Woodbridge Jewellery Workshop at 80 Thoroughfare. We shall be specialising in bespoke pieces and high quality jewellery restoration. We intend to open to the public Thursdays to Saturdays 9 - 5pm, and other times by appointment. We shall also be running 1 and 2 day jewellery courses aimed particularly at couples who wish to make their own wedding rings. New website up and running soon www.woodbridgejewelleryworkshop.co.uk.
Telephone 01394 647117.
We should like to thank our customers for their support during our 26 years in Sudbury. You have given us the opportunity to make some amazing things! Looking forward to seeing some of you in Woodbridge.