News
Launch Event
8th March 2014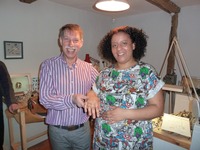 Press release:

Launch of Woodbridge Jewellery Workshop

Rick and Maggie Chapman have relocated to Woodbridge after running their successful jewellery workshop in Sudbury for 26 years. Their Launch Event at 80 Thoroughfare, Woodbridge on Saturday proved hugely popular and was a tremendous success.

Maggie had designed the Deben Ring in 18ct yellow and white gold set with three brilliant cut diamonds, and Rick had the challenge to make the ring in the workshop, in just one day – with an audience!

"I started at 9a.m"said Rick "so the first visitors saw just a bar of dull metal. I chose the diamonds, and then began working the gold for the centrepiece of the ring. People were fascinated to see the ring taking shape using traditional tools and skills. We had hundreds of visitors – many chose to drop in 2 or 3 times throughout the day to check on progress – although we did have one lady that stayed for 4 hours!"

Everyone that visited during the day, left their details, and was entered into a free draw to win the ring. Rick finished making it at 4.45p.m with a final polish, so at 5p.m the winner was announced.

"I phoned Kelly and she was absolutely delighted "said Maggie "There were shrieks of excitement both on the phone and in the workshop" Luckily the winner was local, and came down to the workshop immediately, where Rick was sizing the ring so that it would be a good fit.

"It really was the perfect way to showcase what we do"said Rick. We make all our jewellery completely by hand. We also undertake restorations and repair to quality fine pieces, and offer a full design service. Something new and unique to the area – we are running jewellery courses – specialising in couples making their own wedding rings. We really feel that Woodbridge is the ideal setting for us – we fit exactly into the ethos of the town, and will work well with the other independent shops here."

Rick has had over 40 years experience working at the bench. He completed his apprenticeship in diamond mounting with the Worshipful Company of Goldsmiths at Asprey of Bond Street. The perfect training ground he says!